Sump Pump Systems Installed in NJ & PA
Patented Sump Pump Systems Installed by Certified Waterproofing Contractors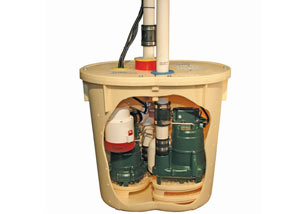 An inside look at our TripleSafe Sump Pump System, including airtight lid, primary pump, secondary pump, and battery backup sump pump.
Your sump pump is your main line of defense against a basement flood when you have a perimeter drainage system intalled in your home. There's no use in having a wet basement so it's important that you have a powerful, reliable sump pump system that you can count on to keep the space dry all the time.
We install only the best sump pump systems available anywhere in the New Jersey and Pennsylvania area. At Century Masonry we have all the answers to clogged sump pumps, power failures, torrential rainfall, and much more!
We service Easton, Vernon, Sparta as well as Hopatcong, Phillipsburg, East Stroudsburg, Hackettstown, Dingman, Newton, Hamilton and nearby. We can help you dry your basement! For a free sump pump system quote, call or e-mail us today!
Our Sump Pump Systems
Each of our sump pump systems includes the following features:
CleanPump Stands: These sump pump stands are installed to raise the pumps off of the bottom of the liner. Any silt or sediment that settles on the bottom of your sump pit will be kept away from your pump. These stands also allow for height adjustment of the pump if necessary.
Airtight Sump Lid: An airtight lid keeps odors and humidity out, while protecting your sump from debris from the basement floor. Rubber grommets around all pipes and wires help maintain the airtight lid and also help to keep all PVC pipes steady and quiet.
IceGuard Discharge Line Protection: Many sump pump discharge lines are susceptible to freezing during the cold winter months. Our IceGuard discharge line protection prevents this from happening, with no need for the homeowner to do anything! This specifically designed grated adapter is located outside where the discharge line exits the house. If the pipe underground freezes in the winter, water can still be pumped out without the worry of backups into your basement!
WaterWatch Alarm: Sounds off to let you know if water has risen past the point where the pumps should have turned on.
SuperLiner Sump Liner: Large enough to keep your sump pump working properly, without turning on and off repeatedly. Not so large that your liner goes too deep, making your sump pump wear out prematurely as it pumps out unnecessary water.
At Century Masonry, we offer two different sump pump systems: the TripleSafe and SuperSump.

TripleSafe Complete Sump Pump System
The TripleSafe Sump Pump System is our most reliable sump pump system and provides three levels of protection for your basement and your piece of mind.
In case of a power outage, our UltraSump battery backup sump pump, set at the highest level, will pump 11,500 gallons or more on a fully charged battery!
For normal functioning, the TripleSafe has a powerful, cast-iron Zoeller ⅓ horsepower sump pump set at the lowest level. For heavy volumes of water or in case of primary pump failure, a second, more powerful Zoeller ½ hp pump set a bit higher in the liner, will take over.
TripleSafe Specifications


A Powerful Cast-Iron Zoeller ½ hp Secondary Pump -- If the primary sump pump fails or is overwhelmed by extremely heavy waters, the secondary pump will turn on, discharging up to 4,300 additional gallons of water per hour!
Cast-Iron Zoeller ⅓ hp Primary Pump -- Reliable and powerful, this sump pump system can discharge 2,500 gallons of water per hour from your basement.


Long-Lasting UltraSump Battery Backup System -- In the case of a tripped circuit, power outage, or sump failure, your TripleSafe also includes an UltraSump Battery Backup System. This heavy-duty battery backup can pump more than 11,500 gallons of water on a full charge. A second battery can be hooked up to a single system for an even longer running time.
SuperSump Premier Sump Pump System
Century Masonry's SuperSump Premier Pump System is an effective and economical solution that can help keep your basement dry.
The SuperSump can be installed with an optional UltraSump Battery Backup Sump Pump, which can pump out 11,500 gallons or more on a single charge!
The SuperSump includes a powerful Zoeller ⅓ horsepower cast-iron sump pump, capable of pumping 2,500 gallons of water per hour out of your basement.
SuperSump Specifications
Optional Battery Backup Pump Pump -- For protection from sump pump power outages or pump failures, we highly recommend that you install an UltraSump Battery Backup Sump Pump. An additional battery can be installed on a single UltraSump allowing for double the pumping time.
Cast-Iron Zoeller Primary Pump -- The SuperSump installs with either a Zoeller ⅓ hp sump pump, or optionally, a more powerful Zoeller ½ hp sump pump. The third horsepower is able to pump out 2,220 gallons of water per hour, while the half horsepower pumps out 3,900 gallons per hour.
---
More About Our Sump Pump Systems...
Looking for a price? Get a no cost, no obligation free estimate.