Crawl Space Structural Support Jacks Contractor Near Sparta, Vernon, West Milford
Repair Your Sagging Crawl Space & Restore The Structure-- Without Rebuilding!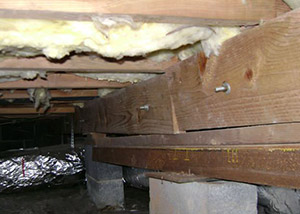 If you look carefully in this picture, you'll notice that the wood of the floor joist is beginning to show signs of severe damage due to failing crawl space supports.
As these supports begin to give way, the floors above can sag and interior walls may crack, resulting in expensive problems in your home.
Crawl spaces play a key role in your home's structural integrity because they are built directly underneath your home. Crawl spaces bear the weight of your home through the foundation walls and crawl space support columns.
How Crawl Space Supports Fail
(Click for more information about each failure issue.)
At Century Masonry and Waterproofing, we specialize in crawl space repairs of all types. If you're experiencing a structural problem with your crawl space, we have a solution for you.
In many cases, a failing crawl space structure can be resolved by installing crawl space supports. No matter what your crawl space needs, our highly trained experts are here to help.
Before and After
Before

After

After:

As you could see in the before pictures, we manipulated the wall as far back as we could (approximately 3 1/2"). Because of how violent a break this wall experienced, we had to excavate the foundation. We then opened the slab and installed a footing with rebar extending up the full height of the new wall. These areas were filled solid with concrete.

We also sprayed a waterproof membrane with a drainage matting and footing drain to reduce static pressure on the foundation before backfill.

Installing a new wall here was the best approach for this particular project. Needless to say, our homeowner is now comfortable utilizing this valuable area of the property.

Before:

We were called in to inspect a failing foundation.......

These pictures are quite a statement. This wall was an extreme example!
Crawl Space Support System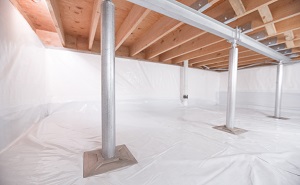 The SmartJack® Crawl Space Stabilizer is the perfect solution for any crawl space with a failing structure. It is an adjustable supplemental support system that not only supports sagging crawl spaces, but also can be used for lifting failing joists or beams, restoring them to their original position.
The SmartJack® is available for installation throughout New Jersey and Pennsylvania, including Sparta, Vernon, West Milford and nearby areas.
SmartJack® Specifications
Fast, Year-Round Installation -- The SmartJack® can be installed year-round, with installations completing in about a day. There's no waiting time for concrete to cure!
Stronger Crawl Space Support -- Our crawl space support system can support vertical loads exceeding 60,000 pounds, which is far stronger than conventional concrete repairs.
Versatile Installation -- The SmartJack's portable size allows it to be installed in even the tightest of crawl spaces.
Superior Support -- Our support jacks do more than merely halt the downward movement of your floor. The SmartJack® may also be adjusted to try to lift the floor above to its original position.
Looking for a price? Get a no cost, no obligation free estimate.