Home
»
Basement Waterproofing
Basement Waterproofing Near West Milford, Sparta, Vernon
We fix wet, damp, musty basements
As an experienced waterproofing company, Century Masonry and Waterproofing helps homeowners solve their basement problems fast.
All of our patented products, like the award-winning WaterGuard drainage channel, are custom designed to fit your home. We install these products exclusively as the authorized dealer in West Milford, Vernon, Sparta and nearby.
If you have musty smells, walls that feel damp, or if your basement floods with heavy rain, we can help. Not sure what's causing your home's wet basement? Let one of our experts take a look. We offer free inspections and estimates – schedule yours today! Call 1-833-418-9376 or click the button below to send us an e-mail.
Before and After
Before

After

We arrived to 5" of water on the floor but when we left it was completely dry and with our work it will remain dry! We installed a SuperSump and 60' of FlowGuard. The combination of these two products ensures that any water that tries to get into the basement will be drained and pumped outside. To make sure the moisture in the air was under control as well, we also installed a SaniDry XP in an adjacent room.

Before

After

This homeowner asked us to remove and patch over an old, leaky window in the basement. Here are some before and after pictures.

Before

After

This project was for a previous customer. We worked with them on two of their other homes, needless to say...we liked them and I guess they liked us too!

The garage here was being pushed in, as you can see in the pictures, approximately 3 1/2" at one point. It was also taking in water. After discussing a plan of attack, we started this project. First, we excavated the foundation and then manipulated the wall back as far as possible. We had to prevent the sheering from reoccurring and stabilize the foundation. While we were at it, we waterproofed the foundation and blocked in a couple of windows.

Our homeowner now has a functioning foundation/garage that can be used as a shop for storage or to park cars.

Before

After

Here is a before and after of a WaterGuard system we did in Blairstown NJ. In the before picture if you look at the floor joint you can see dampness and a water stain, after we get done the homeowner won't have to worry about that anymore!

Before

After

This homeowner in Hackettstown, NJ got a MillCreek floor installation. This is the lighter version. Our project here was completed in a few hours, the homeowners did a great job of prepping the room, making our job easier and their project less money!

Before

After

This is a before and after of a basement we waterproofed in Andover, NJ. Our client has very flat property in an area that is prone to minor flooding.

We installed DrainTile with CleanSpace and a TripleSafe, to control the hydrostatic pressure that was occurring. We also installed block work in 3 of the 4 windows to elevate the existing grade. The fourth window was a little above grade so we installed glass block to allow light to enter without the elements (humidity, insects).

To complete this project we installed our SaniDry Sedona and drained it into the system.
Signs of a basement waterproofing problem
Your damp or wet basement can cause more than just a headache; these issues can create bigger problems like mold, mildew, rot, structural damage, and a variety of health problems. If you've noticed any of the symptoms below, you might have a basement water problem.
Wet or damp basement floor
Leaking or damp basement walls
Pooling or standing water
crystalline deposit on concrete surfaces
Musty odors
Condensation
Sump pump issues
Leaky basement windows
---
Providing proven solutions for a dry basement since 1996
Our complete basement waterproofing system includes all the solutions you need for a dry, comfortable, odor-free basement; no matter what's causing your issues. We offer many solutions for your home, including sump pumps, basement drainage systems, dehumidifiers, crack repairs, vapor barriers, and more.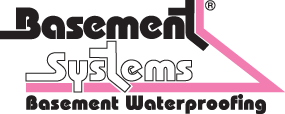 Free basement waterproofing & repair estimates in Phillipsburg, Hackettstown, Sparta, Stroudsburg and nearby
If you think you have a basement waterproofing problem, request a professional basement inspection today. We will send one of our certified basement waterproofing specialists to visit your home and conduct a thorough inspection of your home's basement foundation.
Century Masonry and Waterproofing fixes leaky basements in New Jersey and Pennsylvania, in areas like East Stroudsburg, Phillipsburg, Hopatcong, Dingman, Newton, Hamilton, Hackettstown and neighboring towns and cities. Contact us today for a free wet basement repair estimate.
Other companies might try to sell you on inferior basement waterproofing solutions. Our products have been developed, patented, and perfected by Basement Systems®, Inc. -- the world's largest network of basement waterproofing contractors.
Looking for a price? Get a no cost, no obligation free estimate.