Crawl Space Vapor Barrier System Contractor Near West Milford, Vernon, Sparta
Everything You Need For a Dry Crawl Space
Our job at Century Masonry and Waterproofing is to make sure that your musty crawlspace is transformed into a dry, clean, and energy-efficient space.
For most homeowners, the crawl space is a place they are not happy with. There is a good reason for this though-- most crawl spaces don't offer much to be smiling about.
Most crawl spaces flood, and then are filled with debris, while others are moldy, foul-smelling spaces that homeowners avoid at all costs. In more extreme cases, they can be rotting structures with rodents, animals, and other pests living within.
For a free crawl space repair quote, call or e-mail us today!
Before and After
Before

After

The homeowners were having an issue with a crumbling foundation and dampness due to a dirt crawlspace. We repaired the foundation, added an entry door to the crawlspace and installed Cleanspace and Silverglo.

Before

After

This project was a concern because of insects (cave crickets), water, humidity, mold, cold and unsightliness.

We addressed all of these issues. In the basement side of this building we installed a new SuperSump with an UltraSump and new discharge line. We also created an opening between the basement and crawl space to allow airflow for the SaniDry XP.

On the crawl space side, we had a new door installed, closed up the existing window and a couple of miscellaneous openings. It's hard to see but several joists required "sistering " due to moisture. We also installed 2 new lally columns with footings. All of this was the encapsulated with CleanSpace. The entire rim joist was spray foam insulated.

Before

After

On this project we installed concrete blocks in 2 windows that were leaking, DrainTile, CleanSpace wall and a TripleSafe with 1 pump and an UltraSump. This was a project we looked at several years ago but because of very little heavy precipitation the customer waited and called us in years later to do the job!
Steps to Installing A Crawl Space Vapor Barrier
Our Vapor Barrier System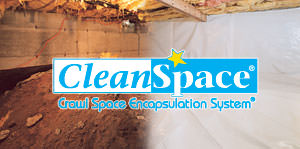 Century Masonry and Waterproofing offers more than just crawl space vapor barriers! We offer a complete moisture control system that includes a wide variety of crawl space products for your home. Click on any of the icons to the left to learn more.
Advantages To Our System:
Fast, Clean Installation
Patented, Warrantied Products
Save Money On Utility Bills
Gain Storage Space
Our crews of crawl space contractors are professionally certified at the Basement Systems International Headquarters in Seymour, CT.
Contractors In NJ & PA
Looking for a price? Get a no cost, no obligation free estimate.