French Drain Systems for NJ & PA Basements
Dry Basement Solutions by Certified Waterproofing Contractors throughout NJ & PA
There are different tools to fix different problems. You wouldn't use a hammer to pound in a screw, right? In the same way, we wouldn't waterproof a basement with generic piping.
We have the drainage solutions you need to create dry, usable space in your basement or crawl space here at Century Masonry and Waterproofing. We have the ability to customize our unique basement drain system so that it specifically works for your home and problem- no matter what it may be. If you are looking for more information or a free basement waterproofing quote, call or e-mail us today! Our installations take 1-2 days.
The WaterGuard® Drainage System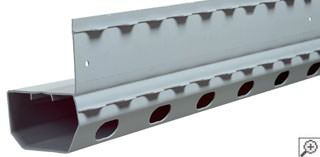 WaterGuard®, which is our most popular drainage system, and is the perfect solution for most basement waterproofing applications.
Our unique system is unlike any old-fashioned drain tile systems which are installed on the outside of the home. WaterGuard® is installed just underneath the perimeter edge of the basement floor to solve your wet basement problems once and for all!
WaterGuard® Specifications
Will not clog with mud -- The system sits on top of the footing, away from the "mud zone" underneath your floor. Water is collected without the risk of clogs that would halt your system.
Able to waterproof concrete block foundation walls -- Weep holes are drilled at the bottom of the blocks to drain the hollow cavities.
Includes wall flange with 3/8" opening to collect water from walls -- There's no gap on the basement floor to let humidity into the space or to collect debris.
DryTrak® Monolithic Floor Drain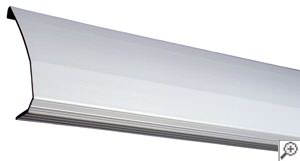 DryTrak® is a baseboard drainage system that is installed above the floor and along the inside perimeter of the basement.
If your floor and footing were poured as one piece, called a monolithic foundation, DryTrak® is the only drainage system that's appropriate. DryTrak® is also ideal for other functions when jack-hammering the floor is not an option- for example- in basements with radiant heat.
DryTrak® Specifications
Will not collect mud or debris -- As a sealed basement drain that is placed on top of your basement floor and against the wall, there is no opening for debris to collect in the system from the basement floor.
Installs without jackhammering a drain channel -- Your monolithic floor (and your foundation footing) will not be damaged during installation.
Able to waterproof concrete block foundation walls -- As with WaterGuard®, weep holes are drilled at the bottom of the block to drain cavities.
---
Other Drainage Systems
Along with our WaterGuard® and DryTrak® systems, we offer all of the following specialized drainage systems:
SmartPipe:
Crawl Space Drainage
TrenchDrain:
Grated Basement Drain
WaterGuard® IOS:
Iron Ochre System
FlowGuard:
Thin Floor System
Looking for a price? Get a no cost, no obligation free estimate.