Our Basement Waterproofing System Contractors Near West Milford, Sparta, Vernon
Lasting, Warrantied Solutions for Your Wet Basement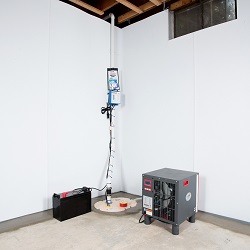 A basement is a huge part of your living space- especially if you live in a one-story home! We at Century Masonry and Waterproofing understand this and want to help make your basement livable and dry all year round!
We have highly trained installers that use quality Basement Systems products. Our effective products have been drying basement for over 20 years!
It doesn't take long for our expert installation crews to dry your basement- usually only one or two days under normal conditions.
Before and After
Before

After

We arrived to 5" of water on the floor but when we left it was completely dry and with our work it will remain dry! We installed a SuperSump and 60' of FlowGuard. The combination of these two products ensures that any water that tries to get into the basement will be drained and pumped outside. To make sure the moisture in the air was under control as well, we also installed a SaniDry XP in an adjacent room.

Before

After

This project was for a previous customer. We worked with them on two of their other homes, needless to say...we liked them and I guess they liked us too!

The garage here was being pushed in, as you can see in the pictures, approximately 3 1/2" at one point. It was also taking in water. After discussing a plan of attack, we started this project. First, we excavated the foundation and then manipulated the wall back as far as possible. We had to prevent the sheering from reoccurring and stabilize the foundation. While we were at it, we waterproofed the foundation and blocked in a couple of windows.

Our homeowner now has a functioning foundation/garage that can be used as a shop for storage or to park cars.

Before

After

Here is a before and after of a WaterGuard system we did in Blairstown NJ. In the before picture if you look at the floor joint you can see dampness and a water stain, after we get done the homeowner won't have to worry about that anymore!
Six Great Reasons to Choose Us
Fast Installations: Our system installs quickly in your home, with most complete installations taking one or two days.
Quality Products: Basement Systems dealers have been installing their patented, award-winning products for more than 20 years.
Free Waterproofing Quotes: We offer free waterproofing quotes to homeowners in our service area. Our quotes come in writing, and there's no obligation!
Locally Owned And Operated Contractors: Century Masonry and Waterproofing is locally owned and operated and has been in business since . They're a stable, well-established company that's there when you need them!
A Cost-Effective System: Our waterproofing system can be customized to fit your budget, and it costs about half as much as an exterior waterproofing system.
Experienced Crews: A crew of experienced workers will arrive to install your system quickly and professionally. Each one is a waterproofing specialist who dries basements every day.
Investing In A Basement Waterproofing System

Basement finishing is the most cost-effective way you can add living space to your home. Unlike building an addition on to your home, the basement is already there, and so are the pipes, electrical wires, and utilities you need.
According to Remodeling Online's 2009-2010 report, basement finishing raises the value of your home by 75.4% of the remodeling price. This makes it one of the best home improvement investments on their report.
USA Today reports that a wet basement is one of the most serious "red flags" that deters buyers from buying a home. If you invest in a basement waterproofing system, it increases your home's market value by 10%.
The lifetime written warranty, which is transferable to the next owner, also ensures that home buyers will be confident that your home is dry and protected from future flooding.
The crews of waterproofers here at Century Masonry are experienced and well-trained professionals. They work in basements and crawl spaces every day so they know just what to do to keep your basement dry all the time!
If you live in Sparta, Vernon, West Milford or nearby, we're the contractors for you! We offer free basement waterproofing quotes to homeowners within our service area.
Looking for a price? Get a no cost, no obligation free estimate.