SilverGlo™ Crawl Space Insulation Contractor Near Sparta, Vernon, West Milford
A Better Answer to Seal Your Home's Crawl Space
What It Does:
SilverGlo™ Crawl Space Wall Insulation is the superior choice to make it an energy-efficient crawl space.
SilverGlo™ couples highly effective graphite-impregnated insulation with a radiant heat barrier. This gives your crawl space walls an R-11 insulation, and seals your walls from outside moisture and humidity infiltration.
Technical Features
Brings Crawl Space Up To Current National Energy Code
Graphite Particles Improve Insular Properties By 24%
Radiant Heat Barrier On Visible Side
Closed-Cell Insulation Will Not Soak Up Moisture Like Other Options
Economical Insulation Option For Crawl Space Environment
Get a FREE Quote!
Before and After
Before

After

Before and after of a crawl space with rough walls and a low ceiling height. This house also had multiple openings into the area that we closed up with either EverLast door or filled with SilverGlo wall insulation. This crawl space had its own, functional sump pump so we utilized it and added the CleanSpace, SilverGlo, Spray foam insulation, SaniDry Sedona and EverLast door. This project only took a couple of days to complete and our homeowner has it in time to enjoy the warmth provided by our project
Do you have crawl space humidity? SilverGlo™ is a great way to seal off your walls, while also saving money on your energy bills! For a free quote on sealing and insulating your crawl space, contact us today!
We serve Vernon, West Milford, Sparta, and many nearby areas in New Jersey and Pennsylvania.
Quality & Economy For Insulating A Crawl Space
SilverGlo™ is an expanded polystyrene foam insulation that's been infused with graphite during its creation to improve its insular ability by 24%. Combined with its silver radiant heat barrier on the visible surface, it provides an insulation rating of R-11 on your crawl space walls. This insulation can be customized for special projects or local code requirements, making it a versatile, effective solution.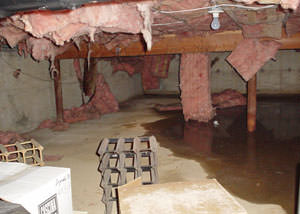 As fiberglass insulation becomes soaked with moisture in a crawl space, it will grow mold and "drip" off the ceiling.
If you're interested in keeping your crawl space dry to help prevent mold, rot, and musty odors, this is the product for you! SilverGlo™ also creates a vapor barrier on your crawl space walls that keeps moisture from making its way into your crawl space, where that moisture would help mold, rot, and mildew grow.
SilverGlo™ is part of a crawl space repair system that includes our TerraBlock™ Floor Insulation and our CleanSpace® Vapor Barrier.
We also have several crawl space waterproofing products such as our SmartSump™ Sump Pump System to control flooding, our SmartPipe™ Drainage System; the only drainage system made specifically for crawl spaces, and our durable CleanSpace® Drainage Matting.
Learn more about our crawl space repair systems.
Looking for a price? Get a no cost, no obligation free estimate.